Workshops
The Clemens Fine Arts Center is offering three workshop opportunities this season with mainstage shows.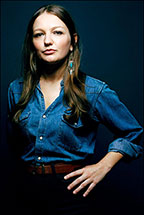 Interested in learning more about songwriting?
Kelsey Waldon who is a WKCTC alumnus and female country singer/songwriter from Nashville will be offering a songwriting workshop October 13 from 10 AM to 12 PM at the Clemens Fine Arts Center stage on the campus of West Kentucky Community and Technical College.
The seating is limited to 15 and everyone is encouraged to bring a song that they may want feedback on from Kelsey and the group. There is no fee for this workshop. To sign up email clemensfac@kctcs.edu or call 270-534-3212.
April 4 – More information about this workshop coming soon!