Culinary Arts Program Student Handbook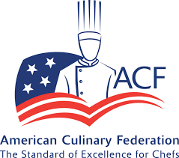 Program Coordinator: Laura Farrell
Faculty: Erik J. Engelland
Mission
The mission of the Culinary Arts Program is to provide students with a solid foundation in technique while providing an atmosphere for students to explore their creativity within. Our career-focused education will instill professionalism and guide passionate students towards their goals in culinary arts, catering and personal chef, and food and beverage management.
Program Description
West Kentucky Community & Technical College's Culinary Arts Program is designed to prepare students for careers in the culinary arts, food and beverage management, restaurant management, catering, institutional food service, and as professional chefs. Course work includes but is not limited the following subjects: basic food production, knife skills, baking and pastry arts, international cuisine, nutrition, sanitation and safety, catering, cost control, and management techniques and functions. Class work includes both a commercial kitchen/laboratory setting as well as a lecture one. The program uses the teaching philosophy of the American Culinary Federation and the National Restaurant Education Foundation.
Program Philosophy/Objectives
The Culinary Arts Program is a comprehensive program that offers quality degree, diploma, and certificate programs in the areas of Culinary Arts*, Food and Beverage Management, and Catering that employs the following objectives:
To help students acquire the qualities of a professional food service employee for an entry level or higher position as a chef/manager in training or hospitality/food related position.
To become proficient in the skills needed to be successful in our industry.
Understand the principles of food identification, nutrition, cost control, and other related areas of the food service industry.
Hone skills in the areas of organization, time management, and self-direction.
Become a leader in the area of food service with a skill set that exceeds other comparable programs in the region and State of Kentucky.

Program Admittance
The following minimum compass scores are required for admittance into the program:
Pre-Algebra: 34
Reading: 76
Writing: 57
*It is highly suggested that students enroll and complete both CUL 100: Introduction to Culinary Arts and CUL 125: Sanitation and Safety before enrolling in lab courses. First year students may be placed into labs upon discretion of instructor with the exception of CUL 250: Garde Manger. Students must pass the Certified Food Protection Manager (CFPM) exam for successful completion of CUL 125.
*Indicates credential that is accredited by the ACFEF
Student/Faculty Ratio
Curriculum Guides
We offer a variety of degree, diploma, and certificate programs. To receive a complete listing, please visit our home page.
Program Competencies
Communicate Effectively:

Read and listen with comprehension.
Speak and write clearly using Standard English.
Interact cooperatively with others using both verbal and non-verbal means.
Demonstrate information processing through basic computer skills.

Think Critically:

Make connections in learning across the disciplines and draw logical conclusions.
Demonstrate problem solving through interpreting, analyzing, summarizing, and/or integrating a variety of materials.
Use mathematics to organize, analyze, and synthesize data to solve a problem.

Learn Independently:

Use appropriate search strategies and resources to find, evaluate, and use information.
Make choices based upon awareness of ethics and differing perspectives/ideas.
Apply learning in academic, personal, and public situations.
Think creatively to develop new ideas, processes, or products.

Examine Relationships in Diverse and Complex Environments:

Recognize the relationship of the individual to human heritage and culture.
Demonstrate an awareness of the relationship of the individual to the biological and physical environment.
Develop an awareness of self as an individual member of a multicultural global community.
Technical Competencies (Culinary Arts Option)
Demonstrate the use and care of commercial restaurant and baking equipment.
Demonstrate modern and classical preparation of foods for commercial establishments, including the ability to follow and adjust recipes.
Demonstrate and apply principles of food preparation to a variety of products including but not limited to the following: vegetables, starches, fruits, stocks, soups, sauces, meats, seafood, and poultry.
Demonstrate the fundamentals of baking science in preparations of a variety of baked products.
Demonstrate garde manger skills used in the preparation of cold food products.
Apply knowledge of laws and regulations relating to safety and sanitation in the kitchen.
Discuss and demonstrate the overall concepts of purchasing and receiving in the food service industry.
Discuss and employ the principles of menu planning and layout.
Discuss the characteristics, functions, and food sources of the major nutrients and how to maximize nutrient retention in the food preparation and storage.
Demonstrate the skills needed to be a food service supervisor/manager.
Demonstrate the practices of receiving and proper storage.
Demonstrate an understanding of the hospitality industry and career opportunities in the field
Demonstrate an understanding of dining room service functions using a variety of types of service and knowledge of quality customer service.
Develop and demonstrate a familiarity with a variety of alcoholic and non-alcoholic beverages. Demonstrate an understanding of laws and procedures related to responsible alcohol service.
Become certified in sanitation by a nationally accredited food safety program.
Program Requirements
*Progression in the Culinary Arts Program is contingent upon achievement of a grade of a "C" or better in each course.
Attendance
Attendance will be taken each day. Students are responsible for material covered in their absence and it is in the students' best interest to contact the instructor for any missed work. Students needing to miss multiple class meetings should contact their instructor immediately. A maximum of 5 absences will be allowed for issues that are not pandemic related. Regardless of reason, you automatically fail the course upon receiving your sixth absence.
Tardiness
You are considered tardy once the instructor has taken attendance. You are permitted three times late, following your third tardy, you will not be permitted into class and you will be marked absent for the day.
Pandemic-Related Absences
Attendance will be taken each day to assist in possible contact tracing.  Students who are absent, due to pandemic-related illness or other associated issues, must inform the instructor prior to missing class. Approved pandemic-related absences will not be counted as unexcused absences.  Students are still responsible for all course material covered when absent and should check Blackboard for assignments. 
Catering Event Participation
Participation in catering events gives students valuable experience in the high pressure and busy nature of professional cooking. Therefore, participation in catering events is vital to the success of every student enrolled in the Culinary Arts Program. First semester students are required to complete a minimum of 5 hours of catering service per semester. Second semester students and above are required to complete a minimum of 10 hours of catering service per semester. Students enrolled in CUL 290: Front of House/Catering are required to complete a minimum of 20 hours of catering service for that semester. Students will lose 5 points off their professionalism grade for every hour short of their benchmark.
Make-up Policy
The student may make up any scheduled examination the following day only if the absence was due to illness, immediate family responsibilities, job-threatening work requirements, natural disasters, and/or at the discretion of the instructor. It is in the student's best interest to contact the instructor as soon as possible in the event of an absence as to see what assignments they might have missed and schedule a make-up time
*A make-up assignment (Quiz or Homework) MUST be completed within the next 2 school days!
Written Work Policy
All term papers, assignments (including daily work unless noted by instructor) and projects must be typed and free of grammatical and spelling errors. Recipes and other material from published works must not be handed in as original work but must be notated where the information was obtained from in the Works Cited page.
Plagiarism
Plagiarism is the act of presenting ideas, words, or organization of a source, published or not, as if they were ones' own. All quoted material must be in quotation marks, and all paraphrases, quotations, significant ideas, and some form of documentation must acknowledge organization acceptable to the instructor for the course.
All academic work, written or otherwise, submitted by a student to an instructor or other academic supervisor, and is expected to be the result of the student's own thought, research, or self-expression. In any case in which a student feels unsure about a question of plagiarism involving the student's work, the student must consult the instructor before submitting the work.
Drop/Withdrawal Policy:
Students officially withdrawing after the 100% refund deadline and before mid-session, will receive a grade of "W".  If your home college is WKCTC, you must complete the Withdraw/Drop Request located in your student self-service under Academic Records.  After mid-session, the grade of "W" will be assigned only at the discretion of the instructor.  If your home college is not WKCTC, please refer to your college for specific instructions/requirements.  It is recommended that prior to withdrawal, students discuss their circumstances with their instructor and the Financial Aid Office, because it is a serious decision that often impacts financial assistance and academic progress. 
Incomplete Grades
An incomplete grade ("I") is assigned solely at the discretion of the instructor.  There must be a reasonable possibility that the student will pass the course upon completion of the missed work, and the missed work must be the result of extenuating circumstances.  The instructor will set dates for completion time.
Special Exam Policy
At the discretion of the instructor a STEP exam may be provided.
Graduation Requirements
Students must receive a grade of "C" in all Culinary Arts courses.
Food Policy
Only beverages with a lid are allowed in the classroom. Absolutely no gum or snacks in the labs.
Food Tasting Policy
At West Kentucky Community & Technical College, students are required to taste and evaluate the products that they, students, and instructors produce in the kitchen laboratory. By doing this, one learns how cooking affects a products color, taste, and texture. This is imperative to a student's educational experience at WKCTC. Instructors may provide reasonable accommodations to this policy based on dietary restrictions, including religious dietary restrictions, if requested. Students with documented disabilities requiring individualized accommodations should contact Accessibility Services, at 270-534-3406 or wk-accessibilityservices@kctcs.edu. For requests based on religious dietary restrictions, it is the student's responsibility to notify the instructor who may determine a reasonable alternative. Accommodation requests must be updated every semester and are not retroactive.
Cell Phone Policy
Absolutely no cell phones are allowed in the classroom or lab. Keep them put away. If you have small children and require a means of contact with them, put your cell phone on vibrate. No calls during class are allowed unless you are on a break or for an emergency.
Clean-Up Policy
Clean-up and maintenance of our fine facility is the responsibility of everyone! Each student at the end of class will clean up their personal pots/pans and related items. Failure to help your fellow students may result in points being deducted from their final grade.
Dress Code
Professionalism is a reflection of how you look. You are responsible for keeping up with your uniform. No jewelry is allowed except for a wedding band or medical bracelet. Hair must be neat and properly restrained. Facial hair must be neatly presented (you may have a small goatee or beard, but you MUST trim around it).You must have closed toe shoes preferably black along with a thermometer, side towels, and an apron. Regular inspections will be conducted and may result in points being deducted from your final grade.
Professionalism
Professional behavior fosters a positive campus community and maintains an optimal learning environment and is the hallmark of those within the Hospitality Industry. Students are expected to act in accordance to the Standards Of Conduct outlined in the Student Code of Conduct. Including, but not limited to: (1) KCTCS students are expected to adhere to the highest standards of academic honesty and integrity, (2) respect and preserve the health, safety, welfare, and privacy and rights of all members of the campus community, (3) respect the property of others, the property, facilities, resources, and reputation of the College, and (4) observe the rules, regulations, policies and procedures of the College as well as local, state, and federal laws. Violations of these standards will not only yield in a loss of professionalism points from your final grade, but may also incur expulsion, fines, or jail time as appropriate.
Classroom/Lab Behavior:
Whether specifically instructed to do so or not, students are expected to comprehensively read their textbooks and to take useful notes in class. Lecture activities will include information from both the text and other sources and are intended to cover only the "high-points" of subject matter. Some lectures may cover topics not found in the textbook. This material will be supplied in class and is the responsibility of the student to keep. The student is expected to read the companion text material and all hand-outs and will be held accountable for the content thereof.
The instructor expects to have the student's complete attention for the entire class period. Playing electronic games and indulgence in other distracting pursuits will not be permitted in class. If asked more than once, the student will receive a warning, professionalism points deducted, or may be asked to leave the room.
Cellphones will be placed on silent and be inside a bag or concealed from sight. They are not allowed on the desktops or in labs. Cellphones are NOT allowed to be used as a calculator and are not allowed to be used on any in class test. This includes smart watches and tablets. If any of these items are out and in use during an exam; the student will be dismissed, and the exam will be recorded as a zero in the grade book. A total of (5) points will be deducted from your Professionalism grade each time you are asked to put your cellphone away during class. The exception to this rule is when using a cellphone as a kitchen timer in the lab. However, in a testing environment, the cellphone must be plainly visible at the workstation and not carried around.
Common courtesy toward instructor and other learners is mandatory in class or lab. Rude, aggressive, disruptive, or hostile behavior will not be tolerated. This includes foul or vulgar language. We are training to be professionals and professional behavior is to be expected. A student(s) participating in such behavior will first receive a verbal warning. Student(s) may be asked to leave if the situation calls for such action. If behavior persists, a formal written warning will be issued, and 10 points will be deducted from the Professionalism grade/final grade. Following a third incident, the instructor will notify the Chief Student Affairs Officer of the behavior and a formal inquiry, as per the Student Code of Conduct, will proceed with possible disciplinary actions up to and including suspension.
Horseplay will not be tolerated in the lab area or in the classroom. A student(s) participating in such behavior will receive a verbal warning and may be asked to leave if the situation calls for such action. The lab area will be treated as a working kitchen area.
Financial Aid Repayment
PELL, SEOG, and Student Loan recipients (Title IV) who stop attending or withdraw prior to the 60% point in the semester may be obligated to repay a portion of their financial aid.
KCTCS Code of Student Conduct Statement/Title IX:
Kentucky Community and Technical College System (KCTCS) faculty and students are bound by principles of truth and honesty that are recognized as fundamental for a community of teachers and scholars. The college expects students and faculty to honor, and faculty to enforce, these academic principles.
Students may direct complaints of discrimination, harassment, or sexual misconduct to the Title IX Coordinator (Anderson Technical Building 204, 270-534-3479) for resolution pursuant to the Code of Student Conduct or in accordance with the Sexual Misconduct Procedure: 
Students may refer to the KCTCS Code of Student Conduct for more information on student rights, academic offenses, and the student's right to appeal.
ADA Accommodations Policy
West Kentucky Community and Technical College (WKCTC) is committed to providing equal access for persons with disabilities in accordance with the Americans with Disabilities Act of 1990 (ADA), Amendments Act of 2010 and Section 504 of the Rehabilitation Act of 1973 along with Section 508. In support of its commitment to provide equal access to all students, WKCTC offers reasonable accommodations and support through the Accessibility Services Office. The Accessibility Services Office will work with students to determine if accommodations are appropriate and assist them in obtaining equal access to education while at West Kentucky Community & Technical College. All requests for accommodations should be directed to the Accessibility Services Office at 270-534-3349 or wk-accessibilityservices@kctcs.edu.
First and foremost, the health and safety of our students, employees, and communities is our highest priority. Taking a responsible approach in implementing safety protocols is key to having students back in campus buildings, classrooms, labs, offices, and other spaces. The expectation is that we will all engage in the following safety practices: ensuring no fever through temperature self-checks prior to coming to campus, wearing a face mask on campus, washing or sanitizing hands frequently, keeping appropriate social distancing, and cleaning desks/workspaces prior to using the spaces with provided cleaning supplies.
COVID-19 Statement
The College must remain flexible to meet challenges that may include epidemics, pandemics, natural disasters, human-influenced disasters, and any and all threats to the College campus, students, employees, and surrounding communities. To ensure the safety and well-being of our constituencies, the College maintains the right to move classes temporarily or permanently to online, remote platforms; to a hybrid section that includes some face-to-face learning and some remote learning; or to a different campus, location, building, or time. Additionally, the College reserves the right to institute plans or practices in the physical classroom/lab/activity spaces and common areas to protect students and faculty. The College will attempt to make these changes as minimally disruptive as possible, but the College reserves the sole right to alter the particular type, place, or time for their classes.
Student ID Cards
All students enrolled at West Kentucky Community and Technical College should obtain a student identification card. Students may come to the Business Office located in Room 127of the Anderson Technical Building (ATB) on Mondays and Tuesdays from 11:00 am--3:00 pm to obtain an ID. Students must be currently enrolled and have a picture ID before a WKCTC student ID card can be obtained.
To ensure the safety and security of all of our students, all currently enrolled WKCTC students are required to have a valid student ID card OR other form of picture identification in their possession at all times while on campus. Campus Security and College Administrative personnel have direct authority to request a student to produce a student ID. Student ID's are the property of WKCTC. Students must turn in their student ID if they withdraw from classes. Lending an ID to anyone or failure to show a student ID to any College representative upon request is a violation of College regulations.
Activating Email Account/Re-set Password
The primary means of communication between students and the college is through the KCTCS e-mail account. Students should check this e-mail account at least once each week. To access your e-mail account, go to the WKCTC Homepage and click on MyPath at the top left of your screen. If you have forgotten or need to reset your password, go to the above address, click on "Current Students", and then click on "User Account Center". Follow the steps to reset your password.
Accessing your schedule, grades, account, and financial aid information:
Students may access personal information regarding class schedule, grades, account and financial aid information online on MyPath.
Academic Calendar
Students may refer to the academic calendar for information pertaining to important deadlines, holidays, and final exam information.
Campus Library
The Matheson Library is located in the heart of campus and offers students a full range of materials and technology. The library offers over 100 program specific works including both text and multi-media.
Computer Policy
Students may use the computer lab located in the Emerging Technology Center in Room #245. Hours are Monday—Thursday; 7:30 a.m. —2:00 p.m. If you need additional time, the Matheson Library has computers in the Research Room and in the Library Lab. Wireless access for laptops is accessible throughout the library. Research assistance is available from staff members at the Circulation Desk. It is located in Matheson Learning Resource Center, 2nd floor. Hours are Monday—Friday; 8:00 am—4:00 pm.
Additional Information
Additional information including the Print Management Policy, Student Organizations and Clubs, Cultural Diversity, and Extracurricular Activities may be accessed online under the Current Student section.
*Revised Date 8/9/21