Bridging the Gap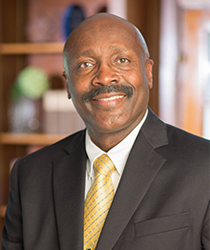 In my morning reflection and preparation for the daily tasks that come with the territory of serving as President, I found myself replaying the unique role we have as higher education leaders. Particularly, in the "new normal" we have the responsibility and opportunity to raise awareness and provide enhanced access to higher education in our regional communities. In addition, we can actively engage our employers and business and industry partners to proactively address concerns about workforce readiness and employment opportunities during COVID-19. To reiterate it another way, what we do and say about education attainment can positively impact all of our student lives', and in some cases, livelihood.
National media coverage, articles and editorials in recent months have captured how COVID-19 has shone a light on the discrepancy of access to health, access to education, job security and earnings, particularly in diverse, lower socioeconomic and under-represented populations. These musings ultimately led me to the importance and relevance of "bridging the gap" at the individual and collective level. On one side of the bridge are prospective students, mainly those coming directly from high school pondering whether to have a "gap year." I would submit that there is a lot that can be lost or done in a year's time and delaying seizing the education and training benefits can have long term implications. That is, a student can achieve several certificates (at WKCTC or other higher education institutions) within a year and be better positioned to qualify and pursue job opportunities in the midst of COVID-19 and beyond. In addition, as pointed out in articles by the Federal Reserve System and presentations from the President of the Council of Post-Secondary Education, Dr. Aaron Thompson, and Dr. Jay Box, president [AMC(K2] of the Kentucky Community and Technical College System, there is ample evidence supporting the correlations between higher education attainment and greater earning power. Therefore, pursuing a general education or technical pathway in a year's time frame gives you that option of significantly "bridging the gap."
To the currently enrolled students who are facing a multitude of challenges and decisions about whether to continue their education, let me offer: Commit to continuing your education. Why would I make that declaration? There are job and career opportunities that currently exist and will more than likely continue to grow post COVID-19. For example, the virtual world has increased tremendously, which signals the need for computer and IT related job opportunities and services. In addition, consumers are increasingly purchasing goods and accessing services virtually. Therefore, there will likely be a need for businesses to hire more workers, preferably our students, to meet those increasing consumer needs. Ultimately, students who seize the opportunity to enhance their education at WKCTC or upgrade their skills are positioned to have an advantage of benefitting in the midst of COVID-19.
Prospective and current students are united at the cross-section of having to make a key decision of beginning or continuing their education and career path at WKCTC. The college is offering several start dates for students to seize the educational opportunity to be on the forefront of transforming their skill levels and preparation to be empowered to navigate through COVID-19. What say ye?