Mechatronic Systems
Help build the functional systems of modern machinery and electrical systems.
Program Contact
Jonathan Baker
Program Coordinator
(270) 856-2408
GET STARTED TODAY (270) 554-9200
What is Mechatronic Systems?
Mechatronics is based on a systems-oriented approach to teaching maintenance technicians in which there is a high level of functional integration of mechanical an electrical systems. Using state of the art trainers, the students are taught to identify how functionally different systems operate; then they are taught to apply the knowledge gained in the four technical courses that are required to solve maintenance issues. These systems include mechanical engineering, hydraulics, pneumatics, and electronics.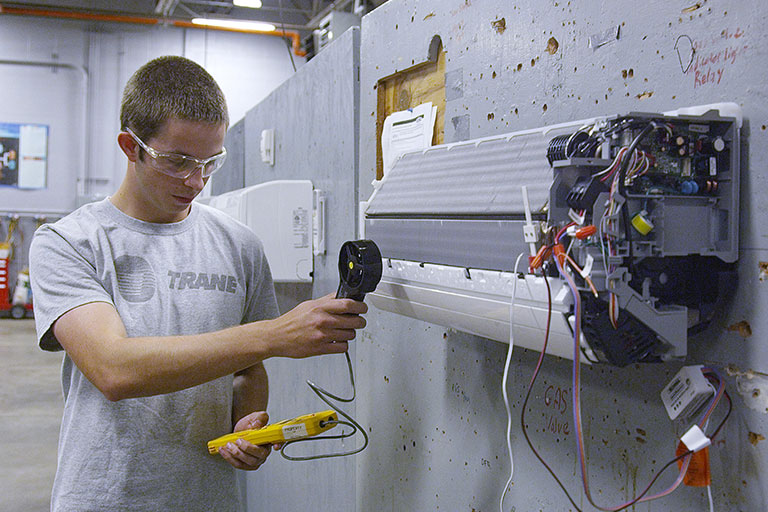 Getting Started
What are my degree, diploma, and certificate options?
How Do I Pay For This?
Worry no more. With the lowest tuition in Kentucky, financial aid options, and a helping hand to guide you through the application process, WKCTC has you covered. WKCTC will help you reach your goals at a price that won't break the bank.
What Else Do I Need to Know?
Length of Program
Students seeking a certificate may complete the program in two or threesemesters by completing a total of 16 credit hours. Day classes and some evening classes are offered during two 16 week semesters (August-December and January-May) each academic year.
This information should not be considered a substitute for the KCTCS Catalog. You should always choose classes in collaboration with your faculty advisor to ensure that you meet all degree requirements.