Welcome from Dr. Reece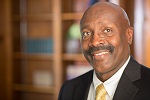 Welcome Students,
I would like to congratulate you on choosing WKCTC and would like to extend a welcome to new and returning students to the WKCTC family! WKCTC has the unique distinction as a four-time top 10 finalist for the Aspen Prize of Community College excellence, which is the nation's signature recognition of high achievement and performance out of 1100 community and Technical colleges nationally. Our mission is to provide excellence in teaching and learning, promote student success and support regional economic development. Therefore, we hire outstanding faculty to teach and engage you inside the classroom and a stellar staff to provide academic support and student engagement in campus life.
There are several advantages of pursuing higher education at WKCTC, including increasing your lifetime earning potential, upgrading your skills, flexible scheduling of classes to meet your needs, affordability and the option of receiving a certificate, diploma, Associate in Applied Science or Associate degree with the intent of transferring to a four-year institution. As a regional provider of education and workforce training, we proudly serve students, business, and industry throughout the eight county Jackson Purchase Area and three Southern Illinois counties.
At WKCTC we never underestimate you and our goal is to support your education and career dreams for a better life and a better Kentucky. We further recognize that college is a transition whether you are a new, returning, traditional or non-traditional student, but "you got this". Therefore, I would like to encourage you to do four key things while you attend WKCTC, including engage your teachers inside and outside of the classroom, chart your own course of successful completion, get involved in our various clubs and organizations, and have fun meeting other students and our supportive staff. Please do not hesitate to reach out to our faculty and staff for any assistance and I look forward to meeting you on campus and ultimately at graduation!
Sincerely,
Dr. Anton Reece
WKCTC President
More From Dr. Reece