Carolyn Moore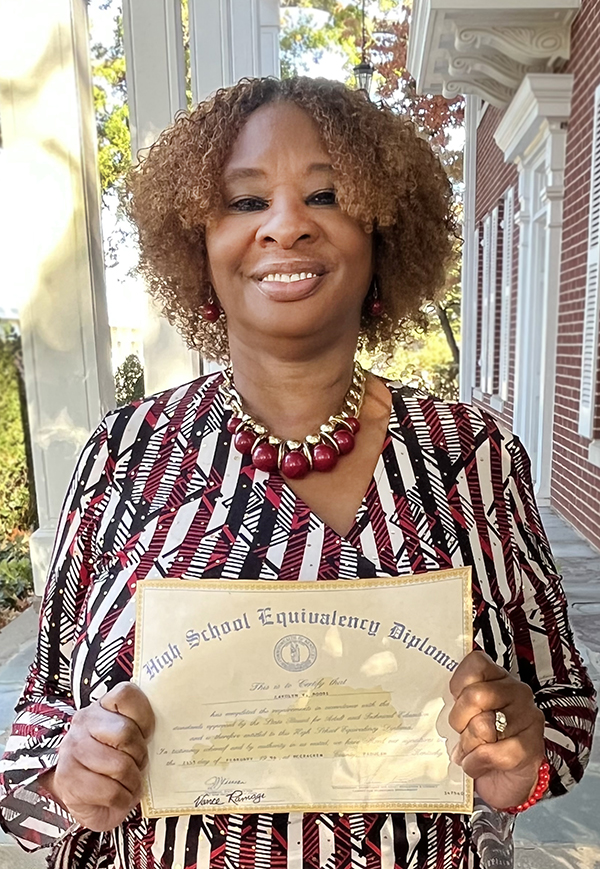 A popular inspirational quote comes to mind in describing Carolyn Moore. "When you have a dream, you've got to grab it and never let go."
As she happily watched her sister's grandson graduate from West Kentucky Community and Technical College with an associate's degree in May 2022, Moore began to reflect back to a time when a dream of her own came true, and began a new dream to one day be able to participate in another one of the college's celebrations – the GED graduation.
Moore began to think back to 1996, the year she earned her GED. But the journey had been a hard one. Pregnant at 13 years old, Moore said she was told she had to drop out of Brazelton Jr. High, which began her road to a struggling, yet wonderful life with her first child, John. That was in 1978. She went back to middle school the following year and graduated. High school graduation, however, was not in Moore's future, and her dream of earning her GED was born.
She began to study and took the GED exam at various testing sites around the Paducah area over the next few years. "I had taken the test three or four times, but I didn't pass. That was so upsetting to me, said Moore, a 58-year-old McCracken County resident. I was frustrated, but I didn't want to give up."
Her goal was put on hold with the birth of her second son Carlos in 1981 when Moore was 17 years old. In and out of an abusive relationship over the next several years, Moore made the decision to begin again as a single mother, continuing to raise her children and working toward her GED.
Moore said her life completely changed when she married her husband, Anthony Moore in 1987. "Anthony was so supportive of me in every way, including raising my sons as his own. That meant the world to me," she said. "We had our third son, Anthony, Jr. in 2002. My life was finally on track, and the next thing I need to complete was my GED."
In 1995, Moore began working toward that goal in the Adult Education office at Paducah Community College, now West Kentucky Community and Technical College. She completed many practice tests, started working with a tutor who worked with her one-on-one in the college's library and kept moving forward.
"The math section continued to be a major stumbling block for me, but I refused to let that stop me," said Moore. She earned her GED on February 21, 1996, at the age of 32, reaching a nearly two-decade milestone. "With the loving support of my husband and my kids, I made it. I never let go of my GED dream and it eventually came true," she said.
After watching her nephew graduate, she made the decision to reach out to WKCTC's Adult Education Learning Center to see if her second dream could come true. Center Director Tammy Maines is working with Moore for the June 2023 GED graduation in the college's Clemens Fine Arts Center.
"We want to help make her goal a reality. She's earned it," said Maines.
Moore said she is looking forward to finally walking across the stage at the college. "I can't wait. I and my family and friends are overjoyed."
For more information on WKCTC Adult Learning Center, contact Tammy Maines at tammy.maines@kctcs.edu, (270) 534-3156.