Apprenticeship Studies
We offer government and state-approved programs in Electrical, Plumbing, and Welding.
Program Contact
Stephanie Milliken
Program Coordinator
(270) 534-3394
GET STARTED TODAY (270) 554-9200
What is Apprenticeship Studies?
A student who has completed a national or state approved apprenticeship program may be awarded forty-two (42) semester credit hours upon completion of twelve (12) college credit hours from West Kentucky Community and Technical College. A list of Western Kentucky apprenticeships is at the bottom of this page.
The college does not take applications for entrance into the apprenticeship programs. A student that is entering this program will already have been accepted into a national or state approved apprenticeship program.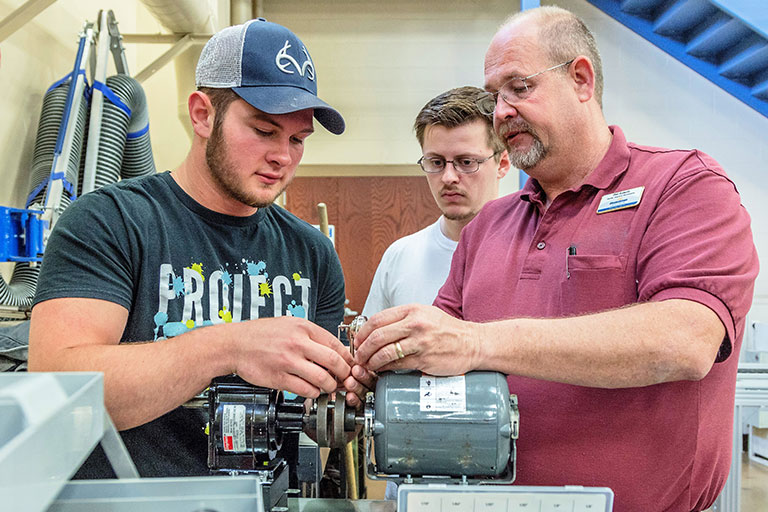 Getting Started
What are my degree, diploma, and certificate options?
The degree requires five general education classes and a few technical electives along with APS 201 Apprenticeship Credit. The number of technical courses is dependent upon how much credit is awarded for APS 201. The total number of credit hours is 60 to 64 for the program.
How Do I Pay For This?
Worry no more. With the lowest tuition in Kentucky, financial aid options, and a helping hand to guide you through the application process, WKCTC has you covered. WKCTC will help you reach your goals at a price that won't break the bank.
Admission Requirements
Admission to the Apprenticeship Studies program requires students to meet the minimum requirements for enrollment.
Students must complete 12 credit hours at West Kentucky Community and Technical College and have completed the national or state apprenticeship program before being awarded up to 42 credit hours toward the Associate in Applied Science Degree in Apprenticeship Studies.
Documentation of completion of a national or state approved program must be submitted when applying for the degree.
Students are required to have earned a registered apprenticeship certification from US Department of Labor in their respective field of work.
What Else Do I Need to Know?
Western Kentucky Apprenticeships
Western Kentucky Apprenticeships
Apprenticeship
Program
Location
Paducah Electricians JATC
Electrician
McCracken County
Plumbers and Steamfitters L.U.
184 JAC
Pipe Fitter
Plumber
McCracken County
Paducah Ironworkers Local 782 JATF
Structural Steel Worker
McCracken County
Murray Electric Systems
Line Maintainer
Calloway County
Multi-Skills Training Services
Maintenance Mechanic
Calloway County
Hickman Electric Systems
Line Maintainer
Fulton
Story Electrical Services, Inc.
Electrician
McCracken County
Benton Electric System
Line Maintainer
McCracken County
Paducah Power System
Line Maintainer
Electrician
McCracken County
Paducah Painters Union Local #50
Painter
McCracken County
Length of Program
You can earn an associate in applied science degree in two years if you maintain full-time status.
You can earn an associate in applied science degree in as little as one semester with full-time status by taking fifteen (15) credit hours of general education, or over the course of two semesters with part-time status. The completion of twelve (12) credit hours must be met before any APS credit may be awarded. The general associate in applied science degree is typically earned within two years if a student maintains full-time status.
This information should not be considered a substitute for the KCTCS Catalog. You should always choose classes in cooperation with your faculty advisor to ensure that you meet all degree requirements.