Computer Aided Drafting and Design
Our program trains you to make detailed, accurate specifications for use in manufacturing and construction.
Program Contact
Stephanie Milliken
Program Coordinator
(270) 534-3394
GET STARTED TODAY (270) 554-9200
What is Computer Aided Drafting and Design?
Do you have an idea that you want to produce? Are you meticulous and detail oriented? Then you have the right skills to be a design drafter. Drafting is a graphic language used by industry to communicate ideas and plans from the creative design stage through production. A computer aided drafter and designer is a technical specialist with broad-based skills for mechanical, parametric modeling, civil, architectural (and Building Information Modeling) and manufacturing fields. The drafter is a skilled technician with a thorough understanding of the graphic language and is an indispensable contributor to the engineering design team.
Computer-Aided Drafting and Design (CADD) utilizes two- and three-dimensional modeling with conventional methods of graphic communication to solve basic design-related problems. Students will be exposed to both theory and laboratory projects as they learn to create a variety of drawings. Specific skills taught include, but are not limited to: lettering, geometric construction, orthographic projections, dimensioning and tolerancing, technical processes, and various discipline drawings and media.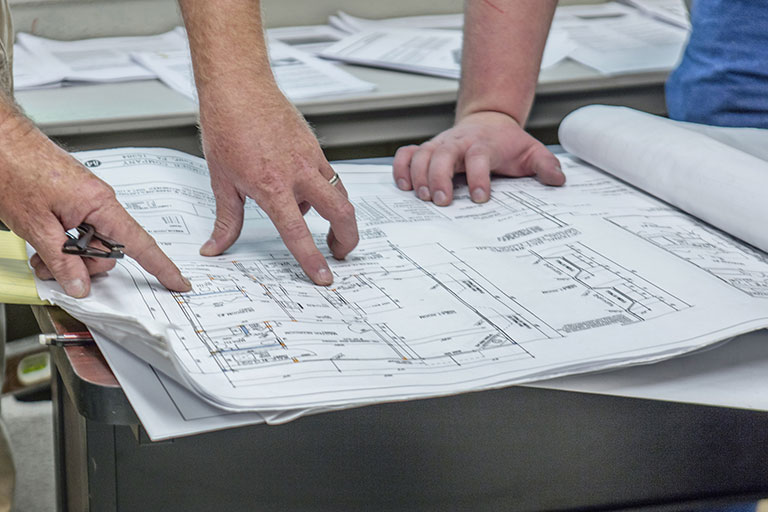 Getting Started
What are my degree, diploma, and certificate options?
How Do I Pay For This?
Worry no more. With the lowest tuition in Kentucky, financial aid options, and a helping hand to guide you through the application process, WKCTC has you covered. WKCTC will help you reach your goals at a price that won't break the bank.
What Else Do I Need to Know?
Additional Information
Program Standing: Progression in the Computer Aided Drafting and Design program is contingent upon achievement of a grade of C or greater in each technical and mathematics course with maintenance of a 2.0 cumulative grade point average or above (on a 4 scale).
Length of Program
You can earn an associate in applied science degree in two years if you maintain full-time status.
This information should not be considered a substitute for the KCTCS Catalog. You should always choose classes in collaboration with your faculty advisor to ensure that you meet all degree requirements.