Surgical Technology
Support doctors and other medical professionals as an operating room technician.
Program Contact
Paul Craig
Program Coordinator
(270) 534-3482
GET STARTED TODAY (270) 554-9200
What is Surgical Technology?
Surgical technologists work under the supervision of a surgeon to facilitate the safe and effective conduct of invasive surgical procedures ensuring that the operating room environment is safe; surgical equipment functions properly; and the operative procedure is conducted under conditions that maximize patient safety. Surgical technologists also possess expertise in theory and application of sterile and aseptic techniques and combine knowledge of human anatomy, surgical procedures, and implementation tools and technologies to facilitate a physician's performance of invasive therapeutic and diagnostic procedures.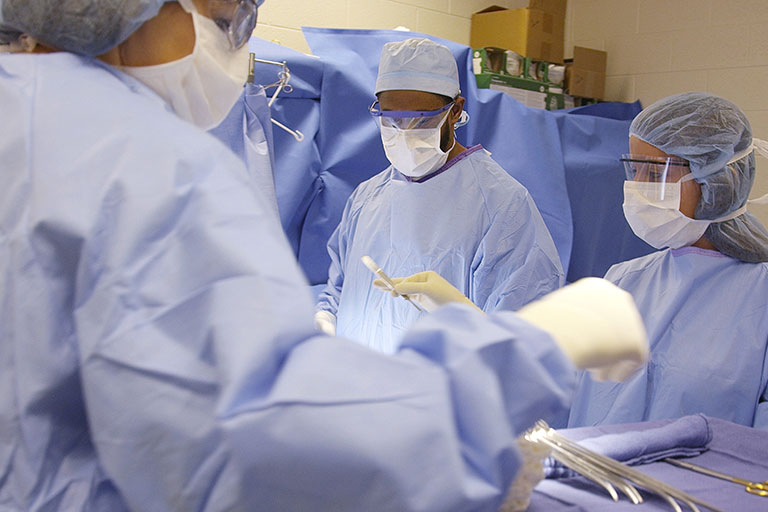 Getting Started
What are my degree, diploma, and certificate options?
*BIO 118 - Microbes and Society, will only be offered during Spring semesters
In addition to completing the program, students must pass the national certification exam to become registered. State licensure is required in some states. CPR certification at healthcare provider level, proof of immunizations, background checks, and drug screens are required after a student is admitted and prior to starting the first semester of the program.
How Do I Pay For This?
Worry no more. With the lowest tuition in Kentucky, financial aid options, and a helping hand to guide you through the application process, WKCTC has you covered. WKCTC will help you reach your goals at a price that won't break the bank.
Applying to the Program
Monday, December 4, 2023
Thursday, February 15, 2024
Tuesday, April 30, 2024
All conferences will be held at 4:00 p.m. in the Barbara M. Veazey Health Sciences Building, room E108. You must attend a pre-admission conference and submit all required paperwork by May 1st of a year to be considered for admission to the fall class of that same year.
What Else Do I Need to Know?
Accreditation
Commission on Accreditation of Allied Health Education Programs (CAAHEP) - 9355 - 113th St. N, #7709, Seminole, FL 33775, (727) 210-2350

Accreditation Review Council on Education in Surgical Technology and Surgical Assisting (ARC/STSA) - 6 West Dry Creek Circle, Suite 110, Littleton, CO 80120, (303) 694-9262
National Board of Surgical Technologists and Surgical Assisting (NBSTSA) - 6 West Dry Creek Circle, Suite 100, Littleton, CO 80120, (800) 707-0057
Association of Surgical Technologists (AST) - 6 West Dry Creek Circle, Suite 200, Littleton CO, 80120, (800) 637-7433
Outcome Assessment Exam

| Class | Pass Rate |
| --- | --- |
| 2016-2017 | 83% |
| 2017-2018 | 100% |
| 2018-2019 | 88% |
| 2019-2020 | 78% |
| 2020-2021 | 100% |
| 2021-2022 | 100% |
Length of Program
You can earn an associate in applied science degree in two years if you maintain full-time status.
This information should not be considered a substitute for the KCTCS Catalog. You should always choose classes in collaboration with your faculty advisor to ensure that you meet all degree requirements.