Nursing Assistant
Become a nursing assistant or aide, fully qualified and certified to provide superior clinical support for patients who need long-term care.
Program Contact
Gwendolyn Duncan, BS, RN
Program Coordinator
(270) 534-3888
GET STARTED TODAY (270) 554-9200
What is a Nursing Assistant?
A Nursing Assistant provides direct care for patients in multiple settings under the direction of a LPN or an RN. Nursing Assistants roles include providing for hygiene, comfort, exercise, safety as well as observing and reporting patient/client conditions. Often Nursing Assistants provide emotional support to clients as well as families during a healthcare encounter.
An Advanced Nursing Assistant has additional skills and knowledge to assume the role and responsibility of a Nursing Assistant in a variety of health care settings. An Advanced Nursing Assistant focuses on communication, infection control, safety, and residents rights while providing direct patient care under the direction of an LPN or RN.
A Kentucky Medication Aide administers specific medications in a long term care facility as delegated and supervised by a licensed nurse (LPN or RN).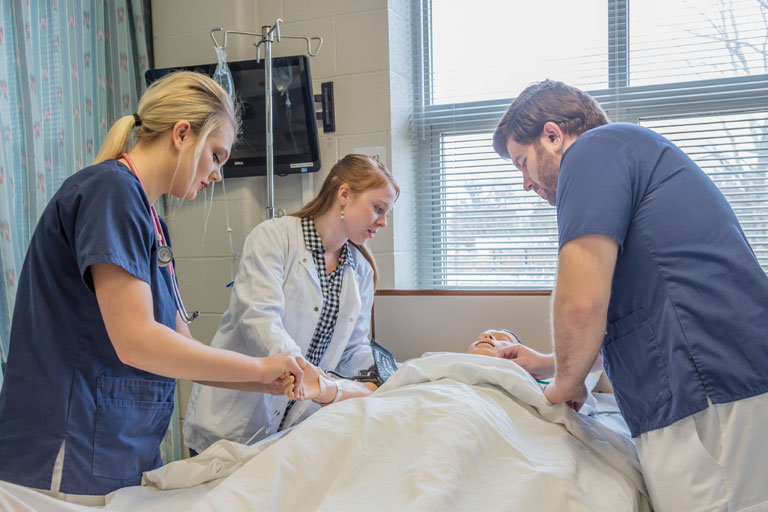 Getting Started
What are my degree, diploma, and certificate options?
How Do I Pay For This?
Worry no more. With the lowest tuition in Kentucky, financial aid options, and a helping hand to guide you through the application process, WKCTC has you covered. WKCTC will help you reach your goals at a price that won't break the bank.
What Else Do I Need to Know?
Additional Information
This information should not be considered a substitute for the KCTCS Catalog. You should always choose classes in collaboration with your faculty advisor to ensure that you meet all degree requirements.