Featured Artist of the Season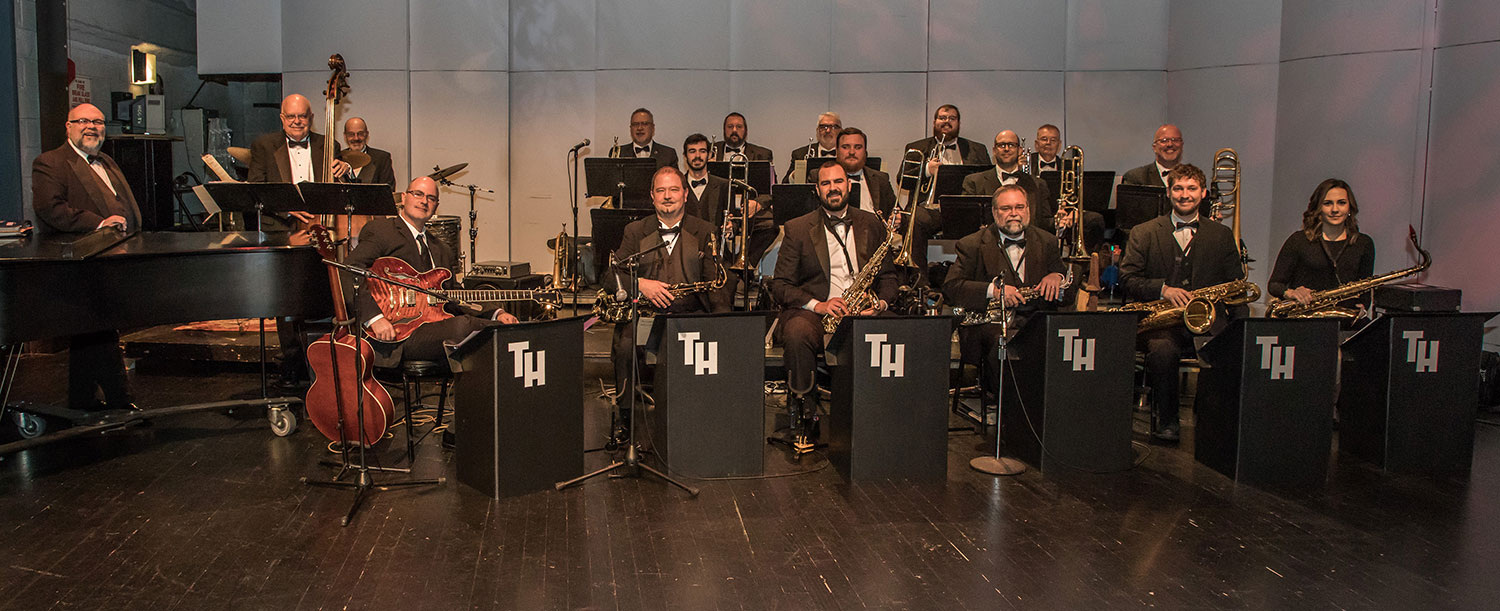 Todd Hill & his Orchestra • Sunday, November 20, 2022 • 2:30pm
The eighteen-member Todd Hill Orchestra has been entertaining audiences throughout the Mid-
south and Midwest regions for close to forty years! Shows feature the orchestra's star soloists on swinging jazz standards, along with the piano and vocal talents of their leader. The band plays for concerts, shows and dances, varying programs to fit the occasion. With more three hundred selections at the ready, the band plays the hits of Glenn Miller, Count Basie, Tommy Dorsey, Duke Ellington, Harry James, Benny Goodman, and many, many more. Their high-energy performances and light banter results in joyous listening, tapping toes, and many return engagements.
The fourteen-member horn section is led by Dr. Derek Jones graceful alto and clarinet atop the reeds, and Ped Foster's biting trumpet leading the brass section. Powerhouse drummer John Madole and Todd started playing together in 1983. As a piano and vocal artist, Todd has performed from Beale Street all the way to Berlin. He has backed such diverse entertainers and jazz artists as Doc Severinsen, Bob Hope, Frank Sinatra, Jr., Gary Morris, Denise LaSalle, Stella Parton, The Moody Blues, Byron Stripling, Allen Vizzutti, Chris Vadala, Jamey Aebersold, Jimmy Walker, Denis DiBlasio, Buddy Childers, Greg Abate, and Rich Matteson. In addition to multiple album appearances, he has three releases under his own name: Todd Hill and his Orchestra: Swingin' and Singin' Live, High Standards: The Todd Hill Quintet, The Brown-Back Hymnal, a solo piano gospel collection.
The Todd Hill Orchestra includes saxophonists Jones (Murray, KY), Andy Brown (Decherd, TN), Brian Hogg (Cincinnati, OH), Taylor Grady (Belleville, IL), and Andy Johnson (Mt. Vernon, IN). Trumpets are Foster (Union City, TN), Gary "Bo" Clayton (Clarksville, TN) Addisson Grimm (Evansville, IN), Adam Fisher (Murray, KY), and Joe Farmer (Martin, TN). Trombones are Anthony Darnall (Hopkinsville, KY), Hunter Moffitt (Mayfield, KY), Dr. Todd M. French (Murray, KY) and Tony Brown (Orlando, FL). Rhythm players include guitarist Brent Webster (Murray, KY), bassist G.R. Davis (Kingston Springs, TN), and drummer John D. Madole (Nashville, TN).
Dr. Hill is Professor of Music, and the Director of Jazz Studies at Murray State University. He directs the award-winning MSU Jazz Orchestra, Jazz Band, Jazz Combos, and teaches Honors College courses in jazz history. He also founded the MSU Town & Gown Community Band. He holds BME and MME degrees from MSU, and a Doctorate in Education from Boise State University. He previously held teaching positions in Milan, TN, Northwest Mississippi Community College, Boise State University, and the University of the Cumberlands. Hill has been active as guest clinician and conducted All-Region and All-State concert or jazz bands in Kentucky, Tennessee, Mississippi, Illinois, Missouri, Indiana, Arkansas, Missouri, Ohio, Idaho, Washington, Montana, Oregon and Nevada. He is the Chancel Choir and Traditional Worship Director at First United Methodist Church in Murray, KY.